Friday, 25 September 2020 was a momentous day for Masonic Care WA as we were joined by the Hon. Michelle Roberts MLA to commemorate the development of Stage One of the Middle Swan Aged Care Campus with a ground-breaking ceremony in situ at the corner of Great Northern Highway and Eveline Road, Middle Swan .
The six-hectare development is set to include a state-of-the-art 124 bed aged care facility, which will give ongoing employment for around two hundred health and operational staff. Residential aged care will focus on the specific needs of those with dementia which is urgently needed in the area. Development is now in the final stages of receiving building approval and hoped to commence the first stage of a three-part development in October this year.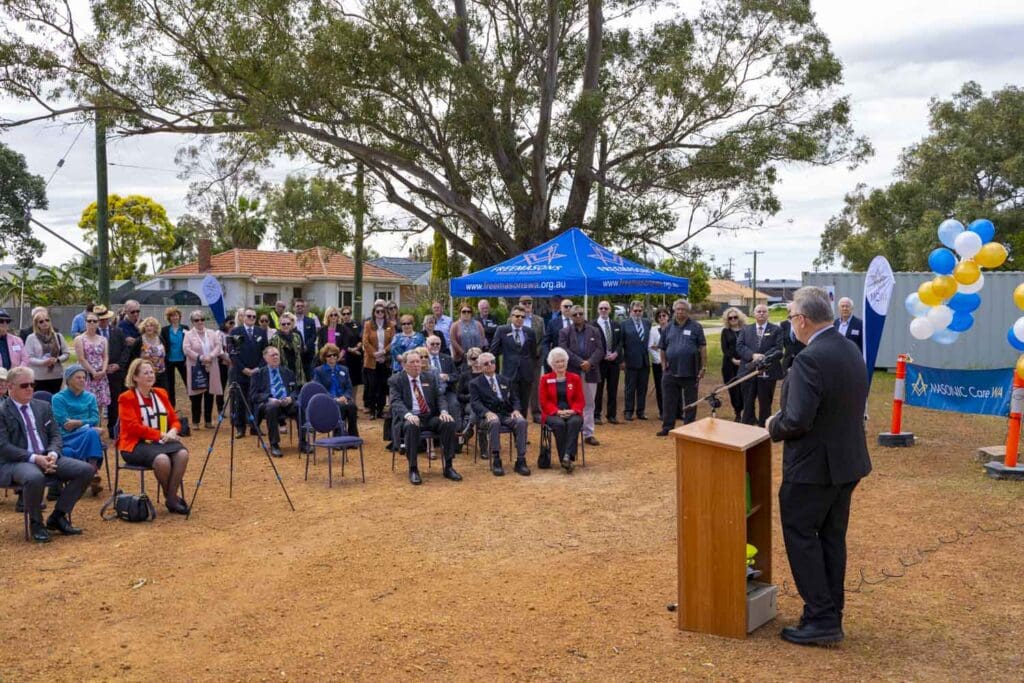 The $45m stage one development will provide an eighteen-month stimulus for the construction sector employing an estimated seven hundred workers. Future development stages for the campus are set to include retirement housing and much needed low-cost rental housing for older West Australians with a total build estimate of $200m over the next 5 years.
"This has been a five-year process getting to this point; as we sourced the best location, here on the old Primary School site in Middle Swan" said MCWA CEO, Marie-Louise MacDonald. "We also had to apply for aged care bed licences from the Commonwealth and were successful in 2018, and of late plan and undertake the planning and building processes which was disrupted for a short period due to COVID-19 shutdowns."
Midland MLA Michelle Roberts has welcomed the project as a massive scale investment in the future of Midland and a really significant addition to the number of options of seniors housing available. "There's a high demand for good aged-care accommodation and future development stages of this project will provide a massive number of aged care units that are much needed. I welcome the expenditure of $45m in the first instance, which will provide an 18-month economic stimulus locally and provide hundreds of jobs."
The Chairman of MCWA, Dr William Babe, a practising Medical Practitioner operating out of Kalamunda, has been instrumental in driving the strategic goals of the organisation. "Aged care is an area I am passionate about and have ensured that this development will deliver a large number of care and housing options for those ageing in the area. This is truly a program of staged development that I am deeply proud to be part of."
Middle Swan Aged Care – find out more